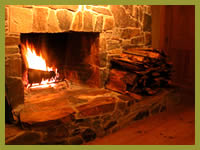 Established in 1985, Beryl Marton and Company is a specialized cheese producer, importer and distributor located on the southern coast of Maine.
It's signature brand "Trempherbe" cheese is a soft, spread-able fresh cheese that comes in a variety of seven flavors to satisfy the most discriminating palate. The cheese can be used to create an assortment of Hors D'oeuvres or simply as an exquisite sandwich spread. Trempherbe is a fresh cheese as opposed to an aged cheese, it should be refrigerated, never frozen.
Many of the condiments combined to flavor the cheese, such as fresh pesto sauce and chutney, are made exclusively at Beryl Marton. The peaches used in our chutney are homegrown on the company's property. All other ingredients are selected for the finest quality and value to ensure the satisfaction of our customers.